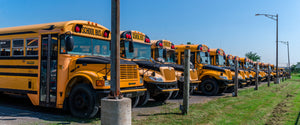 Celebrating over 74 years in business this year and receiving the award for Business of the Year - Medium to Large. Enterprise from the Napanee and District Chamber of Commerce in 2012, the business is run by Lisa and Sean Payne. The couple still maintain the family oriented traditions set out by Carl and Frances Martin more than 70 years ago. In September 1947, Martin's started their first school runs into Long School and Mount Pleasant School after being awarded a year long contract by the Board. A Ford half ton truck transported 12 students into Selby and was later replaced by a green panel truck the kids called the Green Hornet. Later, Martin's added a Volkswagen van and 36 passenger school bus to their fleet. Delbert Harvey and Harold Winters were Martin's first two employees, and so, C. Martin's Bus Service began...
Since the debut of the Green Hornet, Carl and Frances expanded their fleet to 41 vehicles. Their grand-daughter, Lisa, came on-board after Carl's passing in August 1991 to help Frances, and her parents, Paul and Shirley, run the business. C. Martin's Bus Service was sold to the Backholm family in August 1992. Paul, Shirley, and Lisa continued to run the business for the Backholm's until the summer of 1995 when Sean Payne (Carolyn Backholm's son) took over the operations. Lisa was asked to stay on and continue doing payroll and accounting for the business.
In the spring of 1996 Sean and Lisa started dating and were wed in July 1997. Sean and Lisa became the sole owners of C. Martin's Bus Service in 2004. It was always Carl and Frances' vision to have 100 school buses. Sean and Lisa have well surpassed this dream. There are now buses and vans in the Martin's fleet, covering routes encompassing all of L&A County, parts of Frontenac, Lanark and Leeds and Grenville Counties, as well as Trenton, Brighton and Belleville areas.